Bitcoin Pizza Day Run - Miami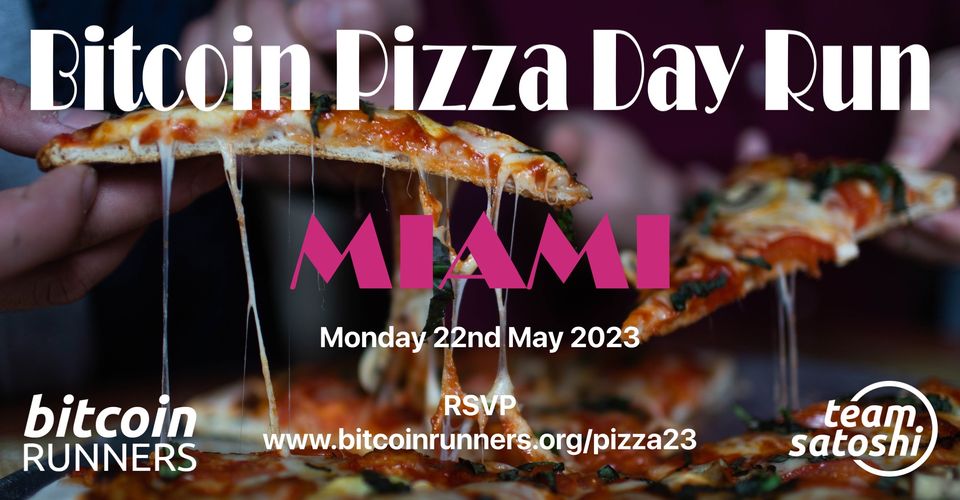 Recharge your carbs and celebrate Bitcoin Pizza Day in a fun and memorable way with a run, followed by pizza!
What: 5km social run to celebrate Bitcoin Pizza Day 🏃‍♀️🏃‍♂️
When: Monday May 22nd. Run at 5pm. Pizza at 8pm
Meet: Miami Beach Convention Centre
What3Words Location: https://w3w.co/stuns.arrives.drivers
Pace: Easy for all abilities. Nobody gets left behind!
The run is free. 10,000 sats (not BTC this time Laszlo) secures your spot at the pizzeria. Please register via the links below.
*Please include your name/pseudonym. Please note, there are 21 spaces for the pizza place, so if the LNURL pay link doesn't work it means all the spaces are taken.
Telegram Group for associated chat.
---
Credits
Bitcoin2023 for having Bitcoin Runners join Bitcoin Week Miami.
The team at LNBits for making lightning payment links (LNURLp is used here), as well as many other great extensions, possible and super easy to use.
Background photo by Brenna Huff on Unsplash